Investing in Packing Tape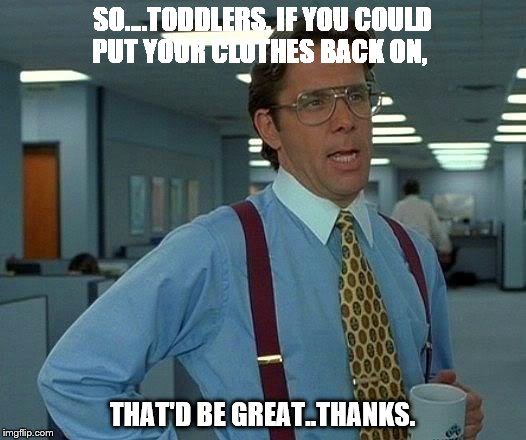 I don't know what it is about being two that just screams, "Nudity is fun," but that's certainly the memo my children have received. Every morning upon hearing them bouncing around their room, I usually walk in to discover one of two things: somebody pooped, somebody is naked, or any combination of the two. Today it was a double header. Both of them were naked, and one of them had left a nice poo log on the floor. I wish I could say that it was the first time. Totally wasn't. Doesn't matter how many times you explain to them that you don't poop on the floor, it somehow manages to end up there. I guess I should be grateful they don't paint with it.
So, today I took a page from my own book and wrapped their diapers with packing tape. I discovered this trick months ago when I was dealing with C (baby girl twin, middleton) taking off her cloth diapers, despite me putting them on backwards. Turns out, it's effective with disposables as well as cloth. Just have to be careful not to wrap it too tightly. I leave a finger's width between the skin and the diaper. Don't need to be cutting off circulation or some nonsense.
Speaking of nonsense, how it is that an unnecessarily large portion of my day consists of me telling someone to put their clothes on? Even being 6 and 4, it amuses them to go streaking. They don't believe me when I tell them that nobody wants to see that. Kind of the same way they don't believe me when I tell them that nobody wants to hear them burp or fart. Clearly, I'm doing well at the whole "teaching them manners" thing. Totally socially acceptable. These little people keep me on my knees praying for deliverance. Haa! I kid. I kid. I mostly pray for peace and strength. I refuse to let the (tiny) hardships of every day steal the joy of motherhood. This is a season. Though it feels like I've been pregnant or lactating forever, it's only been six years. This season will end.
(Featured picture courtesy of Amazon. I actually did use Scotch tape. No, they have no idea. Nor do they care. Free advertising for them.)